*
G2a2a1b-FGC34434, FGC34436, FGC34451, , formed around 11.400 ybp and split a millennium later in subgroups. Is found in archaeologic finds among the Early Neolithic Farmers of Halberstadt-Sonntagsfeld in Germany, 7.211-6.963 ybp and (klei10) in Kleitos, Greece 6.100 ybp and Czechia 6.350 ybp.
Nowadays in Saudi Arabia.
G2a2a1b1-FGC34387, formed around 10.900, in Dravidian-speaking Brahui cattle herders and the Punjabi-speaking Pakistani (Khan).
G2a2a1b2-FGC35165, TMRCA ca.2000 ybp.
G2a2a1b2a-FGC35170, Welsh (R.)
G2a2a1b2b-BY186480, Welsh (J.)
*
G2a2a2-Z36520, formed 12.800 ybp, TMRCA 12.000 ybp. At Tepecik Ciftlik in Türkiye is an archaeological found dated to 6635-6475 BCE, and one from Sappali Tepe in Uzbekistan dated to 2000-1600 BCE.
G2a2a2a-Z45970, BY37100, Z45976, formed 10.600 ybp, TMRCA 10.600 ybp. TMRCA 6.800 ybp, There is an archaeological find in a dolmen in the Western Caucasus, Dlinnaya I 6272, FGC77440+, a SNP in subgroup G2a2a2a-Z45970, dated to 5250 ybp. In several dolmens of the Western Caucasus bronze knives had been found which have closest analogies in the Mediterranean. Nowadays in Türkiye and Algeria.
G2a2a2a1-B376, Uzbek Jew.
G2a2a2a2-Z45965, Algeria Arab.
G2a2a2b-Z36525, formed 11900 ybp, TMRCA 10000 yb.
G2a2a2b1-BY37102, Y106682, formed 10.000 ybp, TMRCA 6000 ybp, North Africa Berber, Bahrain, China.
G2a2a2b1a-Y90753.
G2a2a2b1a1-Y83453, Z36522, France.
G2a2a2b1a2-Z46081.
G2a2a2b1a3-BY193093.
G2a2a2b1b~Z46081, Bahrain.
G2a2a2b1c~BY84930, (H.).
G2a2a2b2-Z45667, TMRCA 4200 ybp, Ukrainians.
G2a2a2b3-Z45700, formed 10.000 ybp, TMRCA 3.000 ybp
G2a2a2b3a-Z45690, formed 3000 ybp, TMRCA 2600 ybp.
G2a2a2b3a1~Z45683
G2a2a2b3a1a~BY37106, formed 2600 ybp, TMRCA 2200 ybp
G2a2a2b3a1a1~Z45715, formed 2200 ybp, TMRCA 500 ybp
G2a2a2b3a1a1a~Z45714,
G2a2a2b3a1a1a1~Z34514.2, TMRCA 400 ybp, Puerto-Ricans from Spain.
G2a2a2b3a1a1a2~BY129845,
G2a2a2b3a1a1b~BY207765, BY207748.
G2a2a2b3a1a1c-FT19778,
G2a2a2b3a1a1c1~FT18864, FT19555, Y164204.
G2a2a2b3a1b~BY70232, Romanian (Tug.).
G2a2a2b3a2~BY192915, Greece (Pap.).
G2a2a2b3b~Z46011, English (Tur.).
*
G2a2b-L30/PF3267/S126, formed 16700 ybp, TMRCA 14400 ybp, is the largest of the two subgroups of G2a in what later became the first Neolithic areas of Anatolia. In the Neolithic this clade is found in 60% of the Europeans, nowadays in only 5% of them. G-L30* is in Greece and Croatia and in some Uralic-speaking Mordvins from Russia. G-L30 is divided into two clusters:
A. G2a2b1-M406, entered Europe along the shores of the Mediterranean,
B. G2a2b2-P303, spread through the Danube valley to western Europe as far as in the United Kingdom, and south to the Iberian Peninsula and the western Mediterranean coasts and islands, where these two clusters meet. (48)
The predominantly Southern European, Mediterranean and Levant groups.
G2a2b1-M406/PF3285, formed 14400 ybp, TMRCA 8700 ybp, originated in Türkiye 14.900 ybp, and entered Italy probably about 5,000 ybp. This is the clade of Asia Minor and Southern Europe. Of the G men in Iraq, Türkiye, Greece and the Balearic Islands, about 50% belong to this clade; in Georgia, 25% (G2a1a is almost 8%); in Italy, 20%; in Spain and the Netherlands, 15%; in Switzerland, 8%; Iran, 6%; and in Poland and UK, 4%.
Split in three groups presumably nearly at the same time probably in the Upper Euphrates Valley at the end of the Pre-Pottery Neolithic B (PPNB), when the climate became much hotter and drier around 8400-8200 ybp.
G2a2b1* is found in a Lebanese chistian.
G2a2b1-M3310/PF3299, Mediterranean, Greeks, Italians, Lebanese, Georgians, Armenians, Azerbaijans, Turks. Austrians
G2a2b1a-FGC5089.
G2a2b1a1-FGC5081.
G2a2b1a1a-L14/U16, age 8,200 years, in Middle Easterners, Italians, Sardinians, English, French, Netherlands, Qatari.
G2a2b1a1a1-Z17083.
G2a2b1a1b-Z17887/Y6222, formed 7800 ybp, TMRCA 6600 ybp, Türkiye.
G2a2b1a1b1-Z17886, formed 6600 ybp, TMRCA 6400 ybp, Türkiye.
G2a2b1a1b1a-Z37368, formed 6400 ybp, TMRCA 5500 ybp. Germany, Italian.
G2a2b1a1b2-L645, PH942, formed 6600 ybp, TMRCA 5500 ybp, Türkiye.
G2a2b1a1b2a-Y134757, formed 5500 ybp, TMRCA 5000 ybp, Türkiye (Armenians, Swiss, and Germans (?)).
G2a2b1a2-M3302, Türkiye (Armenians), Pakistan (Pashtuns), Italy, U.K..
G2a2b1a2a-M34222.
G2a2b1a2a1-M32402.
G2a2b1b-PF3293, age 8,700 ybp, Middle East, Sardinia, Kazakhstan (originally from Ukraine), Palestinians and Sephardic and Ashkenazi Jews.
G2a2b1b1-PF3296/PF3316, age 7,300 years, in Iran, Kazakhstan (Russia), Druzes, Italians. Sardinians, in the Netherlands, Ashkenazi Jews.
G2a2b1b1a Z30795.
G2a2b1b1a1-Z30793.
G2a2b1b1a1a~PF3286, Sultans Ba'Alawis of Yemen, Sultans of Siak on Sumatra-Indonesia, Richard III of England, so probablement les Maisons de Plantagenet et d'Anjou.
G2a2b1b1a1b~Z31533.
G2a2b1b1a1c~CTS430
G2a2b1b1a1d~Z40727.
G2a2b1b1a2-S11415, Sardinians.
G2a2b1b1a2a~FGC41470
G2a2b1b1a2a1-Z6029, Malta (?)
G2a2b1b1a2a1a-Z31414, Sardinians.
G2a2b1b1b2a1b-Z6349.
G2a2b1b1b2a1c-FGC41428.
G2a2b1b1a2a2-S9591, formed 5300 ybp, TMRCA 3800 ybp.
G2a2b1b1a3-Z40727.
G2a2b1b1b-Y2612.
G2a2b1c-Z6340. Sardinia.
G2a2b1d-CTS8450/S4387, Palestinian territory.
The predominantly central and western European groups
G2a2b2-CTS2488, formed 14400 ybp, TMRCA 14400 ybp, most of the Europeans of west and central Europe belong to this clade. It is also found among the Brahmins in India.
G2a2b2a-P303, formed 14400 ybp, TMRCA 11600 ybp, the majority of the G men in Europe, belong to his subgroups. Low rates are found in Iran, Pakistan and in the Middle East. It has also been seen among the Brahmins, in India and with an certain haplotype in Ashkenazi Jews.
G2a2b2a1-L140/S316, formed 11600 ybp, TMRCA 10900 ybp, the whole group with clades is the dominant G group in Europe, present in almost 80%, of G men. The first ones came into Europa probably around 8,500 ybp, archaeological find, 8000-7500 ybp of Koros neolithic in Törökszentmiklos Tiszapüspöki Karanycs, Hungary. Their number is now approaching 7% of the population in some European countries, however the average is about 3%. It is present in small amounts in some parts in France at 5% and in Italy it reaches 9%. There is an Ashkenazi cluster in northwestern Europe. G-L140* are in The Netherlands, Norway, Spain, the Carpathian Mountains, in Palestinians, Saudi Arabia and in the Dravidan speaking Brahii. (49)
G2a2b2a1a-PF3346 archaeolgical finds in Bodrogkeresztur Romania 6150 ybp and of Baden culture in Budapest Hungary 5300-4850 ybp and more. Nowadays in Rajput in India.
G2a2b2a1a1-PF3345 is 10,400 years old. Archaeological finds dated 7,000 ybp in Essenbach-Ammerbreite, Germany, LBK culture, early neolithic and in Croatia in Poland and Switserland.
G2a2b2a1a1a-FGC7568
G2a2b2a1a1a1-U1/Z6779, formed 10600 ybp, TMRCA 10500 ybp. The early years of U1 seem to have been during the hunter-gatherer period, before historical records were kept, so little can be said about it until scientists are able to identify U1 subgroups in ancient skeletons from that time period. The more recent aspects of the historical period are covered in the discussions of the subgroups.
The Hazara DYS393=15 occurs within the tribal group consisting of Shia Muslim men of central Afghanistan who are distinctive for their heavy intermingling with the C3 Genghis Khan, group which undoubtedly came to Afghanistan with the Mongol invasion. It is possible that the Mongol invasion brought these men from somewhere in southwest Russia, since other tribal groups in Afghanistan lack similar G members in the sampling. G2a2b2a1a1a-U1* is still in Italy.
G2a2b2a1a1a1a-L13/U13/L78, formed 10500 ybp, TMRCA 4800 y. In an archaeological find in Barcin Höyük N-W Türkiye dated about 8300 ybp. In its subclades, TMRCA 4800 ybp, it is found among Germans, French, Swiss, northern Italians, UK an Ukraine, Belarus, Western Caucasus, Georgia, Armenia, and in small amounts outside Europe in Iranian Azeri, Arabs, Druze of the Levant, Palestinians in Lebanon and Syria and Sephardic Jews.
The Ashkenazi Jews have DYS588=13 and often DYS568=9 as well.
G2a2b2a1a1a1-L13/U13/S13* in Armenia and Italy.
G2a2b2a1a1a1a1-CTS9909/Z2022, PF6860, formed 4800 ybp, TMRCA 4000 ybp, they most likely came in Western Europe in the Bronze Age, together with the R1a and RIb population. Most known samples come from Europe. The percentage in G samples in Europe is: Germany 16%; Italy 11%; the Netherlands 10%; France 10%; Poland 9%; Spain 9%; Ireland 6%; England 5%; Switzerland 4%. Some Arabs from Bahrain, Persian Jews from Afghanistan and Morocco berbers.
G2a2b2a1a1a1a1a-FGC965/Z6759, FGC995/Z6758, 4,000 years old, has a heavy concentration in Europe.
G2a2b2a1a1a1a1a1-FGC998/Z6764, has a heavy concentration in Europe also in the Netherlands, in Cyprus, Bahrain, Arabs, Algerians, Berbers in Morocco; (Meh).
G2a2b2a1a1a1a1a1a-FGC1016.
G2a2b2a1a1a1a1a1a1-S9751/Z6159.
G2a2b2a1a1a1a1a1a1a-Z29424, formed 3,600 ybp, TMRCA 3200 ybp, Germany, Swiss (Beyeler), Italy, Italian Alps (Herbet), Cypress. Poland, Jews, Hispanics, Syrians, Kurdish, and Persians.
G2a2b2a1a1a1a1a1a1a1-L1263, Z38848, formed 3800 ybp. TMRCA 2500 ybp, Türkiye, UK.
G2a2b2a1a1a1a1a1a1a1a-Z38846, formed 2500 ybp, TMRCA 1350, Germans, Austrians, Dutch.
G2a2b2a1a1a1a1a1a1a1a1-BY48807, Y19317/Z38847.
G2a2b2a1a1a1a1a1a1a1a1a-Y19318/Z38856.
G2a2b2a1a1a1a1a1a1a1a1a1-Z38853 formed and TMRCA 1350 ybp, Germans.
G2a2b2a1a1a1a1a1a1a1a1a3-Z43288.
G2a2b2a1a1a1a1a1a1a1a1a4-43941.
G2a2b2a1a1a1a1a1a1a1a1a8-FT34806.
G2a2b2a1a1a1a1a1a1a1a1a10-BY37125.
G2a2b2a1a1a1a1a1a1a2-Z30777.
G2a2b2a1a1a1a1a1a1a2a-Z30781, formed 3.300 ybp, TMRCA 2000, UK.
G2a2b2a1a1a1a1a1a1a2a1-Z38455.
G2a2b2a1a1a1a1a1a1a5-Z39053. formed 3100 ybp, TMRCA 3100 ybp
G2a2b2a1a1a1a1a1a1a5a-Y57335. formed 3100 ybp, TMRCA 3100 ybp, Circassian, (A.Q.)
G2a2b2a1a1a1a1a1a1a5a1-Y54750. formed 3100 ybp, TMRCA 2500 ybp, German.
G2a2b2a1a1a1a1a1a1a8-Z43944.
G2a2b2a1a1a1a1a1a1a9-Z44047.
G2a2b2a1a1a1a1a1a1a11-Z45562.
G2a2b2a1a1a1a1a1a1a16-BY45246.
G2a2b2a1a1a1a1a1a1a17-FT167239.
G2a2b2a1a1a1a1a1a2 Z39373.
G2a2b2a1a1a1a1a1a2a Y45819.
G2a2b2a1a1a1a1a3a2a1 Y57313.
G2a2b2a1a1a1a1a1b Z42471.
G2a2b2a1a1a1a1a5 Z38875.
G2a2b2a1a1a1a1b Z44912, England.
G2a2b2a1a1a1a1b1 Z30831.
G2a2b2a1a1a1a1b2 Y83449, formed 4000 ybp, TMRCA 350 ybp, Chechchen Rep. (Russia).
G2a2b2a1a1a1a1c S20738, Y51821, Z38837, Z38840.
G2a2b2a1a1a2~Z32842.2, Italy.
*
G2a2b2a1a1a2-L1266, formed 10000 ybp, TMRCA 7500 ybp, includes half of the West Caucasians, like the Adyghes, Abkhazians, Circassians, Kipchaks, Abazins and Karbardinians and Georgians.
G2a2b2a1a1a2a-L1264/L1265/L1268, formed 7500 ybp, TMRCA 3500 ybp, they most likely came in Western Europe in the Bronze Age, together with the R1a population, now in Russia (Kabardinians), in the northwestern Caucasus, primarily among the Adyghians, Ossetians, Tetchens and Senkelens of Central Russia and the Urals, and in Hungary.
G2a2b2a1a1a2a1-Z44222, Adyghes
G2a2b2a1a1a2a1a-L654.2, Germans.
G2a2b2a1a1a2a2-FGC21495, formed 3500 ybp, TMRCA 3400 ybp, Belgians.
G2a2b2a1a1a2a2a-S9409, formed 4200 ybp
G2a2b2a1a1a2a2a1-FGC21497, Belgians, formed 4.000 ybp.
G2a2b2a1a1a2a2a2-Z31275, Kabardinians, formed 4.000 ybp.
G2a2b2a1a1a2a2b-Z30715, Russians, formed 3400 ybp, TMRCA 3000 ybp
G2a2b2a1a1a2a2c-FGC21497, Belgians, formed 4.200 ybp.
G2a2b2a1a1a2b-PH1780, 1950 years old, Georgians, Armenians Iranian Azeris, UK and some Germans.
G2a2b2a1a1a2c~Z6153, Sardinia.
G2a2b2a1a1a2d~Z6391.
G2a2b2a1a1a2d~Z6391.
G2a2b2a1a1a3~Z39803.
G2a2b2a1a1a4~SK1154. Palestinians
G2a2b2a1a1a4a~PH4105.
*
G2a2b2a1a1b-L497/S317/CTS1899/PF6851/Z738, formed 10600 ybp, TMRCA 7200 ybp, This is the largest European subgroup, to which half of the European G, belongs. It seems that G-L497, which is one of the most "European" of haplogroups, spread out from Western Anatolia (where it's found in small numbers) to the Danube Basin with the First Farmers, around 8400-7800 ybp. So far, the earliest branches of L497 are found in Italy and the Netherlands. The Anatolian and Aegean L497s are more "derived" (further down the tree in G-Z725), This group is distributed as follows: Tirol 80% of the G samples; Switzerland 75%; Spain, France and Germany 60%; UK 52%, the Netherlands and Italy 44%. They formed the first wave of farmers entering Europe who started the Neolithic, recognizable by the LBK culture.
G2a2b2a1a1b-L497*, an American of Dutch origin in Gelderland.
G-L497 frequenties in Europe. (50)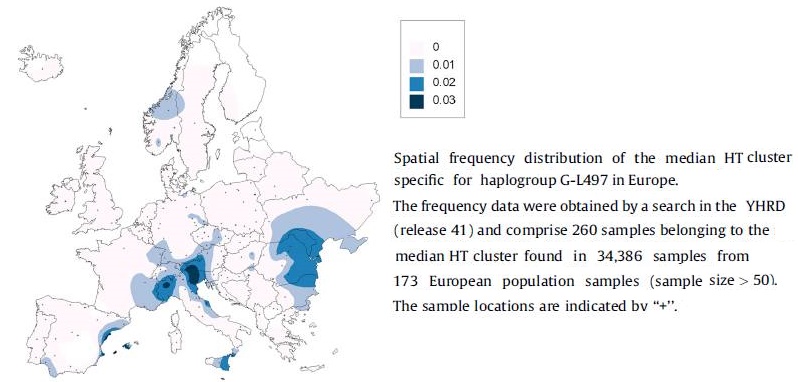 G2a2b2a1a1b1-Z1815/CTS9737, formed 7300 ybp, TMRCA 6400 ybp, archaeolgical find of Baden culture in Budapest Hungary 3300-2850 BCE and Stockholm (Sweden) ca 955 CE.
G2a2b2a1a1b1a-CTS11352/Z1817,, formed 6200 ybp, TMRCA 4600 ybp, is found throughout Western and Central Europe, and especially in Germanic countries.
G2a2b2a1a1b1a1-Y7538/Z725, is formed 6400 ybp, TMRCA 4600 ybp.
G2a2b2a1a1b1a1a-AMM042/CTS2230/Z1823, formed 4600 ybp, TMRCA 4600 ybp., archaeolgical find in Varnham Sweden 975 CE. Nowadays in Norway and Denmark.
G2a2b2a1a1b1a1a1-L43/S147, formed 4600 ybp, TMRCA 3800 ybp, archaeolgical find in Kopparsvik, Gotland Sweden 1050 CE..
G2a2b2a1a1b1a1a1a-L42, formed 3800 ybp, TMRCA 3800 ybp. Spain, is found in a Trypillian outlier individual. This branch might have been assimilated by Proto-Indo-Europeans through contact with the Late Trypillian people who moved to the Pontic Steppe and merged with Yamna tribes. It would later have spread around Germanic and Celtic countries alongside haplogroup R1b.
G2a2b2a1a1b1a1a1a1-Y11074/Z30641, Y10621/Z30642, formed 3800 ybp, TMRCA 3600 ybp. Italia, Switserland, Deutschland, Croatia, Finland.
G2a2b2a1a1b1a1a1a1a-Y11076, formed 3600 ybp, TMRCA 3600 ybp. Switserland.
G2a2b2a1a1b1a1a1a1a1-Z27266/F1300.2/M1809.2, Norway.
G2a2b2a1a1b1a1a1a1a1a-Z39504.
G2a2b2a1a1b1a1a1a1a2-CTS7357.
G2a2b2a1a1b1a1a1a1a3-z31316.
G2a2b2a1a1b1a1a1a1b-YSC0000033, Z41202.
G2a2b2a1a1b1a1a1a1b1-Z39501.
G2a2b2a1a1b1a1a1a1b1b-Y128028, Serbians.
G2a2b2a1a1b1a1a1a1c-45255, archaeologic find 300 CE, München Bavaria.
G2a2b2a1a1b1a1a1a2-Z40854.
G2a2b2a1a1b1a1a1b~Z31333
G2a2b2a1a1b1a1a2-CTS6796/Z726, CTS35/Z6382.
G2a2b2a1a1b1a1a2a-CTS4803, Z3441, formed 4.600 ybp, TMRCA 3,4000 ybp, Archaelogical finds in Hallstatt culture DA112 Czech Republic ca 2.430 ybp
G2a2b2a1a1b1a1a2a1-S2808, formed 3,400 ybp
G2a2b2a1a1b1a1a2a2-Z30771, Z16029.2
G2a2b2a1a1b1a1b-FGC477/Y8903
G2a2b2a1a1b1a1b1-FGC489/Z6748,
G2a2b2a1a1b1a1b1a-FGC490
G2a2b2a1a1b1a1b1a2~Z40857
G2a2b2a1a1b1a1b1a3~BY105807
G2a2b2a1a1b1a1b2-BY27899.1, BY27900,
G2a2b2a1a1b1a1b2a~Z31348
G2a2b2a1a1b1a1b2b-BY124520
G2a2b2a1a1b1a1b2b~BY37046
G2a2b2a1a1b1a1b2b1~Z45475,
G2a2b2a1a1b1a1b2b2-BY113713
G2a2b2a1a1b1a1b3~BY180233
G2a2b2a1a1b1a1b4~A2864.2
G2a2b2a1a1b1a1c-FGC807
G2a2b2a1a1b1a1d~CTS718
G2a2b2a1a1b1a1e-Z39863
G2a2b2a1a1b1a2-Z6911
G2a2b2a1a1b1b-S10458, Italy, France, Poland (nob.), Germany, Netherlands (Gelre, Limb).
G2a2b2a1a1b1b1-Z24311,
G2a2b2a1a1b1b1a-Z24316.
G2a2b2a1a1b1b1a1-Z31358, UK.
G2a2b2a1a1b1b1a2-Z31352, Germany.
*
G2a2b2a1a1c-CTS342, originated about 10,5 KY ago somewhere in Anatolia or the Fertile Crescent. Spread soon in all directions. Is found in archaeological remains dated 8,600 ybp in Barcin-Höyük, Northwest Anatolia, near the Sea of Marmara. Is now divided in several subgroups in a quarter of all Arabian G, Saudi. It spread across North Africa and it's found among 13% of Berbers from Jerba Island, Tunisia, Ashkenazi Jews. In Africa. In Europe in Ashkenazi Jews and in Romania, Italy, Sardinia, Iberia. France, Scandinavia and in a Dutchman. There is a small group in the UK Islands, which has a common ancestor from the Middle Ages. and at least in a Han Chinese man from Beijing,
G2a2b2a1a1c1-Z724, N. Italy, Denmark, a tiny number of Ossetians and a Han Chinese from Beijing, and a group in Gao, Mali (Africa) problaby from Morocco.
G2a2b2a1a1c1a-CTS5990/Z1903 The earliest archaelogical find is from Chalcolithic Bulgaria around 6700 ybp, the TMRCA of all G-Z1903s today is at 4800 ybp. Now in Greece, Italy, Spain, Germany, France, Belgium, Netherlands, UK., Sardinians and in Ashkenazi Jews.
G2a2b2a1a1c1a1-CTS7045, formed probably around 4500 ybp.
G2a2b2a1a1c1a1a-L640, England, Ireland.
G2a2b2a1a1c1a1a1-Y88/Z3520.
G2a2b2a1a1c1a1a1a-FGC348.
G2a2b2a1a1c1a1a2b-Z6032, Sardinians, French, Sephardim, Ashkenazim and Araite jews, Christian Arabs from Syria and Lebanon, Berbers, Mende people from Sierra Leone, Ossetians, and a Han Chinese from Manchuria.
G2a2b2a1a1c1a1b-Z3428, Berbers.
G2a2b2a1a1c1a1b1-Z26414, Berbers.
G2a2b2a1a1c1a1b1a-FGC7477/Z6523, Sierra Leone, n.e. Europe (Ashkenazi Jews), Romania, U.K.
G2a2b2a1a1c1a1b1a1-FGC249.
G2a2b2a1a1c1a1b1a1a-FGC248/FGC263, Ashkenazi Jews.
G2a2b2a1a1c1a1b1a1b-FGC31715, exist for abt 1,500 yrs, Ashkenazi Jews.
G2a2b2a1a1c1a1b1a1a-FGC263.
G2a2b2a1a1c1a1b1b-FGC23437, Europeans.
G2a2b2a1a1c1a1b1b1-Z22644. Austria.
G2a2b2a1a1c1a1b2a-Z6434.
G2a2b2a1a1c1a1b2a1-Z3571.
G2a2b2a1a1c1a1b2b-Z6033.
G2a2b2a1a1c1a1b2c~Z43090. Italian and Irish.
G2a2b2a1a1c1a2-Z40433, Scandinavians.
G2a2b2a1a1c2-FGC12126 formed 9600 ybp, TMRCA 7900 ybp, formed, Han chinese (probably Hui origin)
G2a2b2a1a1c2a-L660 formed 7900 ybp, TMRCA 3700 ybp, England, Poland (nob.), Slovakia.
G2a2b2a1a1c2b-Z16670, formed 7900 ybp, TMRCA 1100 ybp, Saudi Arabia.
G2a2b2a1a1c2b1-Z16713. formed 1100 ybp, TMRCA 850 ybp, Saudi Arabia.
G2a2b2a1a1c2b2-Z31206formed 1100 ybp, TMRCA 600 ybp, Saudi Arabia.
G2a2b2a1a1c3-PF4202, split drectly off from G-CTS342 so originated about 10,5 KY ago, Western Europe, Norwegians, France, Italy (M de P.)
G2a2b2a1a1c3a~FGC37628.
G2a2b2a1a1c3a1~FGC37658.
G2a2b2a1a1c3a2~Z43844 Italy, Ireland.
G2a2b2a1a1c3b~Z39539.
G2a2b2a1a1c3c~PF790.
G2a2b2a1a1d-S1415, Norwegians.
G2a2b2a1a1e-Z30708, Middle Easterners, 11.000 years.
G2a2b2a1a1f-Z39263.
G2a2b2a1a1f~Z39264.
G2a2b2a1a1g~Z39367.
G2a2b2a1a1h~CTS8386.
G2a2b2a1a1i~Z40367.
G2a2b2a1a2~Z38302. Portugal.
G2a2b2a1b-Z30527, 11.000 years. Ukrainians, Iraqi Jews.
G2a2b2a1h-S1415, Iberians, 11.000 years.
*
G2a2b2a2-M278, Greeks, Spanish, present in the Medieval Jewish population of Spain in the 14th century.
G2a2b2a3-Z6885, archaeological finds have been made in the Anatolian Neolithic from Barcin Höyük in Northwest Türkiye from c. 8300 BP (6500-6200 BCE) and the Linear Ceramic Culture - LBK - from Scheltz, Austria, 6950 BP (5500-4500 BCE.
And nowadays in Armenians, Syrians, Al-Muntafiq Tribe of Southern Iraq (Hellenistic Greeks from the Seleucid Empire?) and Arma people an ethnic group in subsaharan Africa in the Niger River, descended from Moroccan and Andalusi invaders of the 16th century.
G2a2b2a3a-Z39310. Archaeological find in a sample dated 7000 BP c. 5040-4850 cal BCE from the El Toro Cave in Antequera near Málaga, South Spain. This Andalusian Early Neolithic culture is thought to have arrived just prior to the Cardial technology.
Italians, Spaniards.
G2a2b2a3a1-Z39308.
G2a2b2a3a2-Z40745.
G2a2b2a3b-Z6147.
G2a2b2a3b1~ CTS7114.
G2a2b2a3b2~ Z40218.
G2a2b2a4-Z30503, formed 11.700, TMRCA 7400, Brahui, Kalash and Punjabis.
G2a2b2a4a-Z40458. formed 7440 TMRCA, TMRCA 6600, Iraqis and Indians.
G2a2b2a4a1-Z30522. Lyengar Brahmins and Bhargava in India.
G2a2b2a4a2-Z40469.
G2a2b2a4b-Z31387 Punjabi and Kalash.
G2a2b2a5~ M426, Pakistan (Kalash).
G2a2b2a6~ Z6030, Sardinian Italy.
G2a2b2a7~ PF3912.
G2a2b2a8~ L288.2.
G2a2b2a9~ PF4685/Z2354.
*
G2a2b2b-PF3359, formed 14400 ybp, TMRCA 12400 ybp, was under the earliest Anatolian Aceramic Farmers of Boncuclu, is found in the following cultures: LBK, Iberia Late Neolithic, Varna Eneolithic, Iberia Chalcolithic, Nuraghic of Sardinia, a Hungarian Scythian of 392 BCE, a Viking Age Sweden from 870 CE, Musawi Sayyid from Iraq, Armenians, Southeastern Turks, and Southwest Iranians, Arabs, Crimean Tatars, a Kabardinian, a Moksha, a couple of Armenians, non-Ashkenazi Jews, a Central Greek, Cretans, Sardinians (here it is 25% of the G), Corsicans, a Hungarian, a German, a Brit, and in the Netherlands.
G2a2b2b1-F1193, formed 12200 ybp, TMRCA 11800 ybp.
G2a2b2b1a-PF3369.
G2a2b2b1a1-F872, formed 11500 ybp, TMRCA 8900 ybp, Epipaleolithic Central Anatolia Boncuklu 10,200 ybp.
G2a2b2b1a1a-PF3378, formed 8900 ybp, TMRCA 5800 ybp, Chaloclithic samples from Su Crocefissu Roma 5700 ybp and El Mirador Cave, Atapuerca, Burgos, Spain, 4850 ± 150 ybp, Hungary 2480 ± 40 ybp ; nowadays in Italia, Sardinia and Germany.
G2a2b2b1a1a1-PF3420, PF3376, formed 5800 ybp, TMRCA 4800 ybp, Sweden in burial grounds in Sigtuna, 10 to 12th century.
G2a2b2b1a1a1a-Z6035.
G2a2b2b1a1a1a1-Z6452.
G2a2b2b1a1a1b-Z46131.
G2a2b2b1a1a1c-PF3409.
G2a2b2b1a1a1d-PF6873.
G2a2b2b1a1a2 Z7016, formed 5800 ybp, TMRCA 5200 ybp, Italia and Netherlands.
G2a2b2b1a1a2a Z7022.
G2a2b2b1a1b-PF3409.
G2a2b2b1a1b1-PF3462.
G2a2b2b1a1b2-PF3463.
G2a2b2b1a1c-PF6873.
G2a2b2b1a1b~-F2572, formed 8900 ybp, TMRCA 8600 yb.
G2a2b2b1a1b1~F2686.2, UK.
G2a2b2b1a1b1a F2214, formed 8600 ybp, TMRCA 8500 ybp.
G2a2b2b1a1b1a1-M310.2, PF2402.2.
G2a2b2b1a1b1a2 ~F807, formed 8500 ybp, TMRCA 2000 ybp, Netherlands.
G2a2b2b1a2 FGC82036
G2a2b2b1b FGC52601
G2a2b2b1b1 Z46065
G2a2b2b1b2 A20535
G2a2b2b1b3 FGC52629
G2a2b2b1b3a FGC52664
G2a2b2b2-PH488, formed 12400 ybp, TMRCA 7400 ybp, Romania Early Neolithic, Armenia, Iran, Palestina.
In Boncuklu Höyük, the site of a 10,500 year old village near the City of Konya in the high Anatolian plateau of Central Türkiye two men are found of G2a2b2b2-PH488, dated 8300-7950 BCE This is oldest archaeologically G.
G2a2b2b2a-CTS1455, PH236, formed 7900 ybp, TMRCA 3500 ybp, Poland.
G2a2b2b2b~Z43316
G2a3b Former notation for what is now G2a2b2
*
G2b-M3115, formed 21.000 ybp, TMRCA 20.000 ybp.
G2b1-M377, formed 20.0900 ybp, TMRCA 8500 ybp, Lebanese; in subgroups is found in Lachin, Nagorno-Karabakh, in an Armenian noble family, in native Syrian Christians and their Lebanese Maronite descendants, in Italy, Sicily, Spain, Saudis of Khorasani origin, Kars Province Türkiye, as well as among Ashkenazi Jews and Pashtuns in Pakistan where it reaches till 14.7% in who claim Israelite ancestry and to be descended from a regular Jewish "Benjaminite" community in Khroasan (Eastern Greater Iran) who converted to Islam at the time of the Mongol Invasion in 1220 CE.
G2b1a-Y12297, BY794, formed 8900 ybp, TMRCA 5200 ybp.
G2b1a1-M283, M3124, formed 3800 ybp, TMRCA 1600 ybp, Italian. Pakistani, Afghans.
G2b1a1a-FT360028, BY154721,
G2b1a1b-M3146 , formed 1400 ybp, TMRCA 900 ybp, Pakistani, Afghans.
G2b1a2-Y12976, FGC32402, formed 4,700 ybp, TMRCA 1050 ybp., Ashkenazim, Baltics and Austria.
G2b1a2*-Z45086, formed 1050 ybp, TMRCA 550 ybp, Germany, Israel.
G2b1a2a-Y15861/FGC35913, Ashkenazim.
G2b1a2a1-FGC35915/Y15862/Z35608. Lithuanian Jewish and Belarus who are probably come from France. TMRCA of the parent 1100 ybp.
G2b1a2a1a-Y67052.
G2b1a2a2-Y16169/Z37831, formed 850 ybp, TMRCA 700 ybp, Israel.
G2b1a2a2a-Z5999, BY21363.2, formed 700 ybp, TMRCA 600 ybp, Roumenia.
G2b1a2a2b-Y81219, (BY165438?), formed 700 ybp, TMRCA 600 ybp. Ukraine
G2b1a2a3-BY147680, .
G2b1a2a4-BY37058,,
G2b1a2b-Y14600, FGC32413, formed 1050 ybp, TMRCA 1050 ybp.
G2b1a2b1-Y14601, FGC32409, formed 1100 ybp, TMRCA 850 ybp, Ukraine.
G2b1a2b1a-FGC32397, formed 850 ybp, TMRCA 850 ybp, Germany, Latvia.
G2b1a2b1b-FGC55702,formed 850 ybp, TMRCA 225 ybp, Poland.
G2b1a2b2-Y50032, BY165834, Y52805
G2b1a2b2a-BY165834,
G2b1a2b2b-BY181331
G2b1a3-CTS3357.2
*
G2b1b2c-Z44684, Z44685, Z44686.
G2b1b2d-Z45084, Z45086.
G2b1b2e-Z45085, Z45086.
G2b1b2f-BY197216.
*
G2b2-FGC3095, FGC3022, Italy, Armenians in Türkiye.
G2b2a-FGC2916, Z8022, an archaeological find in the Zagros Mountains of Iran, 9,250 cal.BP. Nowadays in Syrians, Jordanians and Italians.
G2b2a1-FGC2968,
G2b2a2-Z45411,
G2b2b-Y104063, Z37343, Armenians.
G2b2b1-FT36625.
G2b2b1a-FT37345.
G2b2b1b-FT36417.
*
---

Last modification:

— Webmaster: Boed Marres.