E1a1-M44, has been detected in the Fulbe population in Cameroon at 53%. 2-5% levels have been observed in Mali and Sudan, 18.9 KY. in Alsace-Lorraine.
E1a1a-Z17699, Ashkenazim of Northeast Europe.
E1a1a1-Z17697, TMRCA 3.0 KY
E1a1a1a1-Z17696, Ashkenazi Jews of Northeast Europe
E1a1a2-Z36092, Lebanese Druze 3.0 KY
E1a1b-Z17467, became later in Africa and beyond the deepest branches and the largest distribution, England 3,3 KY
E1a1b1-Z20650, English, formed 3,1 ybp.
E1a1b2-M4507, English.
E1a1b3-Z31503, formed in England, TMRCA 550 ybp.
E1a1c-Z31497, Germans TMRCA 5.000 Ybp.
E1b1-P2 later spread within Africa and then travelled to Asia Minor and southern Europe.
E1b1a-L222.1 is still widely spread throughout Africa.
E1b1a2-M329, is in an ancient DNA sample from the highlands of Ethiopia 4524-4418 Cal BP.
E1b1b-M212 develops in Northwest Africa, through Asia Minor, along the Mediterranean Sea on South-Europe.
E1b1b1-M35.1 Clusters are now distributed in Western and South-eastern Europe, in Asia minor, in North and West Africa.
E1b1b1a1-M78, moved from Northwest Africa to the Nile Valley and the Horn of Africa at the end of the Ice Age around 14,700 ybp, now African, European, and Middle Eastern.
E1b1b1a1a1-V12, TMRCA 10,000 ybp
E1b1b1a1a1b-V32, in Horn of Africa and among Cushitic-speaking herders further south, Upper Egyptian and East African, has a major part that retreated from the Sahara to Northwest and West Africa, and maybe even made it to Southern Europe in the Early Bronze Age.
E1b1b1a1a1b1-CTS3282, FGC14377, in the Upper Nile valley in Egypt and in East Africa. This is the part of E-V12 that fled the rapidly expanding Sahara Desert for the Nile valley, and it's these people that created the Upper Egyptian Naqada culture which was the beginning of Egyptian Civilization.
E1b1b1a1b1-L618, in the Neolithic Balkans.
E1b1b1a1b1a-V13, in the Neolithic Balkans
E1b1b1a1a1c-CTS693, TMRCA 8900 ybp, in very West African just south of the Sahara.
E1b1b1a1a1c1a-CTS1239, Y2877, TMRCA 6100 ybp, it becomes European, also Jewish both Ashkenazim and Sephardim, Sardinians and other Europeans as Irish probably descendants of legionnaires and colonists from Iberia and Italy.
E1b1b1a1a2-PF2272/V65, historical Berbers. is old enough to be the Proto-Berbers (Meshwesh) of the Egyptian Third Intermediate Period starting around 1070 BCE.
E1b1b1a1b2-V22 seems to have moved to the Nile Valley and Delta after the drying out of the Sahara starting around 5900 ybp. They were pushed to the margins of the Sahara, areas like North Africa and the Horn of Africa where it still rained. This new high concentration of people produced one the of the world's major civilizations. It's concentrated in Lower Egypt, and also among Arabic-speaking Sudanese and Nubians. It seems that E-V22 first proliferated in Egypt, and then spread to Sudan much more recent, perhaps with the Egyptians. is also found among Chadic speakers and the Fulani, nomadic pastoralists who migrate all across the Sahel, from Senegal to Sudan. Is also found in the Near East, and likely started to migrate to the Levant from the Nile Valley during the Chalcolithic.
E1b1b1b1a-M81/PF2554, lack of population structure within the E-M183 branch, which could be explained by the recent and rapid expansion of this haplogroup. In spite of a reduction in STR heterozygosity towards the West, which would point to an origin in the Near East, ancient DNA evidence together with our TMRCA estimates point to a local origin of E-M183 in NW Africa. (Sole-Morata et al, Whole Y-Chromosome Sequences Reveal an Extremely Recent Origin of the Most Common North African Paternal Lineage E-M183 (M81), Nature-Scientific Reports, 7, #15941, 2017.)
E1b1b1b2-PF1961, 1 individual from Peqi'in Cave, Israel, about 6,600 ybp.
*
Y-DNA Haplogroup F-M89 stems from CF-P143, is formed 50,000 to 56,000 ybp most likely in the Indian Subcontinent, or somewhere close to it. He became the ancestor of all the Y-DNA haplogroups from G through T. His offspring now includes 90% of the world's population.
The vast majority of individual males with F-M89 fall into its direct descendant Haplogroup GHIJK - F1329/M3658/PF2622. But he has the following subclades.
F-M89* at some Iranians. In one third of the archaeological records about 8000 years old in the Pannonian Basin in Central Europe (1/3 was G2a2b and 10% G2a), and in 7,000 years old archaeological DNA in Derenburg, Germany.
F1-P91, occasionally found in India
F2-Y27277 in the the Tibeto-Burman Lahu people of Yunnan China, Vietnam, Singapore, and an Indonesian.
F2a-M427 occasionally found in India
F3-M481 occasionally found in India
F4-Z40733.
*
Y-DNA Haplogroup GHIJK-F1329, stems from F-M89, formed 65900 ybp, TMRCA 48800 ybp, its subclades comprise the vast majority of the world's male population with the haplogroups G, I, J, K, L, M, N, O, P, Q, R, S and T.
*
Y-DNA Haplogroup G-M201, stems from GHIJK-F1329, is formed in west Asia about 50,000 ybp and split in two subgroups G1 and G2 about 25,000 ybp. At present G is a small haplogroup in Europe with an occurrence from 3% to 7%, somewhat more at places in the Alps, and increasing to 10% on the islands of Sardinia and Corsica.
Haplogroup G seems to have had a slow start, evolving somewhere in West Asia in isolation for tens of thousands of years, G did not participate in the earlier colonization of Eurasia. Now about 2,5 % of the World population has this haplogroup.
G1 and G2 entered Europe in Neolithic times in several waves, together with J1 and/or J2. It has subsequently declined in number, and was minimized upon the arrival in Europe of the corded ware culture in the Iron Age. It is often found in European archaeological DNA.
G1-M342 the oldest branch is formed in west Asia 25600 ybp TMRCA 18400 ybp.
G1a-CTS11562, formed 18400 ybp, TMRCA 14400 ybp
G1a1-BY1124, formed 14400 ybp, TMRCA 13300 ybp, Russians, Saudis.
G1a1a-Z3353, formed 13300 ybp, TMRCA 13200 yb, Indians, Yemens, Slovakians.
G1a1a1-L1324, formed 13200 ybp, TMRCA 4800 ybp, Ashkenazi Jews, Bulgarians, Kazakhs, Mongols, Kuwaitis, Italians.
G1a1b-GG313, formed 13300 ybp, TMRCA 9600 ybp, Saudis.
G1a1b1-GG167, formed 9600 ybp, TMRCA 8500 ybp, Saudis.
G1a1b1a-GG162, GG169, formed 8500 ybp, TMRCA 5800 ybp, Brazil, Iran.
G1a1b1a1-GG157, GG164, formed 6800 ybp, TMRCA 600 ybp, Russians
G1a1b2-GG272, formed 9600 ybp, TMRCA 6900 ybp, Quwaitis, Saudis, Arabs.
G1a1b2a-GG270, GG285, Y159025, formed 6900 ybp, TMRCA 6900 ybp
G1a1b2a1-GG265, formed 6900 ybp, TMRCA 2900 ybp, Armenians Saudis
G1a1b2a1a-GG266, formed 2900 ybp, TMRCA 1200 ybp, Armenians
G1a1b2a1b-Y134359, formed 2900 ybp, TMRCA 1200 ybp
G1a1b2a2-BY181013,
G1a1b2b3-BY175028,
G1a2-F2885, formed 14400 ybp, TMRCA 8100 ybp
G1a2a-BY21302, Z45019, formed 8100 ybp, TMRCA 7900 ybp, UK.
G1b-L830, formed 18400 ybp, TMRCA 8400 ybp,
G1b1-Z17874, formed 8400 ybp, TMRCA 2900 ybp
G1b1a-Z18606, Belarus
G1b1b-Z30744, Qatar,
G1b2~BY165821, formed 18600 ybp,
G2-P287/PF3140, formed 25,600 ybp, TMRCA 20,800 ybp probably in the fertile crescent.
G2a-P15/PF3112, ormed 20800 ybp, TMRCA 18000 ybp and started expanding after the Ice Ages, 14,500 ybp. Of the European archaelogical DNA 20% has these original clade; together with his subgroups they make 60% of the Earliest Neolithic European DNA.
G2a1-FGC7535, Z6552 (former L293), formed 18000 ybp, TMRCA 18000 ybp its subgroups account for 50% to 70 % of the men in the Middle-Caucasus, and is also found among small groups of East Europeans, mostly Ashkenazic Jews and Lebanese Maronite Christians.
G2a1a-FGC595, Z6553, formed 15000 ybp, TMRCA 9500 yb (herein or in subgroups) Uyghurs, Uzbeks, Karakalpaks, Bashkirs, Kumyks, Karachays, Tatars, some among Hungarians, Czechs, and Bulgarians and Kalash and Brahui.
G2a1a1-FGC693, Z6653, formed 9500 ybp, TMRCA 6700 ybp, Lebanon, 12% of the people in the North and Northwest of Georgia with a TMRCA of 7,500 BP, is of Neolithic origin in the Caucasus. spread probably with the Christian Ossetians eastward to China and Mongolia.
G2a1a1a-FGC715, FGC6679, formed 6700 ybp, TMRCA 6000 ybp
G2a1a1a1-Z6635, Z6692, formed 6000 ybp, TMRCA 6000 yb
G2a1a1a1a-Z6638,
G2a1a1a1a1-FGC713,Z6677,
G2a1a1a1a1a-FGC766, Z8014,
G2a1a1a1a1a1-FGC750, FGC7958, formed 6000 ybp, TMRCA 4300 yb
G2a1a1a1a1a1a-Z7940, FGC724, formed 4300 ybp, TMRCA 4300 ybp
G2a1a1a1a1a1a1-Z7944,
G2a1a1a1a1a1a2-FGC719, formed 4300 ybp, TMRCA 750 ybp, Russian.
G2a1a1a1a1a1a3-Z40550,
G2a1a1a1a1a1b-Z31459, Y29585, formed 4300 ybp, TMRCA 3200 ybp, Georgians, with whom Dzhugashvili (Джугашвили), better known as Stalin (Сталин).
G2a1a1a1a1a2-FGC1047/Z7952
G2a1a1a1a1a2a-FGC1048
G2a1a1a2-FGC1159, FGC1160, formed 6000 ybp, TMRCA 5000 ybp, Azerbayan.
G2a1a1a2a-Z6673,
G2a1a1a2b~BY186510,
G2a1a1a2c-BY214643.
G2a1a1b-Z31455,
G2a1a1c-FGC65315,
G2a1a2-Z17774, Z17775, formed 9500 ybp, TMRCA 6100 ybp, Italians, Pakistani
G2a1a3-Z31464, Z35444, formed 9500 ybp, TMRCA 3200 ybp, Netherlands, Germans.
G2a1a3a-Z35447
G2a1a3b-FGC50490
G2a2-L1259-CTS4367. is the ancestor of 90% of the European G. This group split into two, with G2a2a accounting for 10% of the European G, and G2a2b accounting for 80% of the European G.
G2a2a-PF3147+ accounts for 5% of the European G and is found along the Danube, Rhine, Meuse and Thames, in Greece and Corsica and Sardinia. Furthermore, in South and Southwest Asia in Turkey Kurds and Armenians in Iran at Armenians in India.
G2a2a1-PF3177+ is the father group of G2a2a1b1-L166/L167, a cluster found on the islands of Corsica and Sardinia as well as in the 5000-year-old ice mummy, Ötzi, in the Alps and in some round the North Sea. It also occurs in south and southwest Asia.
G2a2b-L30/L32/U8/S126 is the major European trunk accounting for 80% of the G.
G2a2b1-M406/PF3285. originated in Turkey and probably entered Italy about 8000 years ago. This is the dominating G clade of southern Europe. 50% of the G men in Iraq, Turkey, Greece and the Balearic Islands have this clade, 25% in Georgia (G2a1a is almost 8%), 20% in Italy, 15% in Spain and the Netherlands, 8% in Switzerland, 6% in Iran, and 4% in Poland and Great Britain.
G2a2b2-L141.1+ probably originated in the Caucasus. Most of the northern Europeans belong to this clade. It is also found in Spain and northern Africa, and among the Brahmins in India.
G2a2b2a-P303/S135. occurs at high rates in the northern Caucasus region among the Circassians, Avars and Ingush, and in the majority of G men in Russia and Europe and on the island of Ibiza. It is found at lower rates south of the Caucasus, in Iran and the Middle East, as well as among Brahmins in India and with a certain haplotype in Ashkenazic Jews.
G2a2b2a1-L140/S316. This G clade is dominant in northern and Central Europe, accounting for almost 80% of the G men. This group is estimated to be about 15.000 years old. In some countries it accounts for 7% of the population, but the average is about 3%. It is usually divided into three major clades. It occurs in only small amounts outside the borders of the former Roman Empire. There is an Ashkenazic cluster in north-western Europe.

G2b-M3115 The oldest archaeologically find is in the Wezmeh Cave in the Zagros Mountains, Iran. He lived 9.250 ybp.
G2b1-M377 is found in most G men in Afghanistan. It is also found among Maronite Christians in Turkey, incidentally in Iran, and among Ashkenazic Jews in western Europe.
The first farmers in Europe had G2a and G2a2b
Archaeologically found Y-DNA of the first settlers in Europe appeared to be G2a-P15 and G2a2b-L30. Before this time lived here hunter-gatherers who had C and I. Their first burial grounds are found at Derenburg in Sachsen-Anhalt(Germany). It is dated between 7.000 and 7,500 years ago.
Y-DNA SNP's from three men could be determined: two men had Haplogroup F and one G2a2b2. From nearly the same period are the archaeological finds in Starvečo in North-West Hungary and finds of the Linear Band culture in the Pannonian Basin in Central Hungary.
These are the earliest settlements of the Neolithic culture in Europe. From nine men in Starvečo the Y-DNA haplogroup could be determined exactly, and of 8 less or more complete. Haplogroup F is found in 23,5%, G2a in 18% in whom almost certainly G2a2a-PF3147, including G-L91 based on haplotypes, and G2a2b-S126 in 41%. Total G is nearly 60%. The others had I1a1-P37,2. (6)
Around 7000 years ago arrive this first in The Netherlands. They settle on the mountain slopes of the South Limburg Meuse Valley, as at Caberg a neighbourhood on the edge of the plateau west of Maastricht. Here is the fertile loess soil. They find blocks in the underground with flint for the manufacture of tools. Their pottery jars have the Linear Pottery style. The culture is flourishing for 500 years and then disappears without a trace. To what extent this culture disappeared together the population has not yet been demonstrated. There is difference of opinion whether the bringers of the new culture have absorbed or expelled the resident population. See also Maastricht Au-DNA .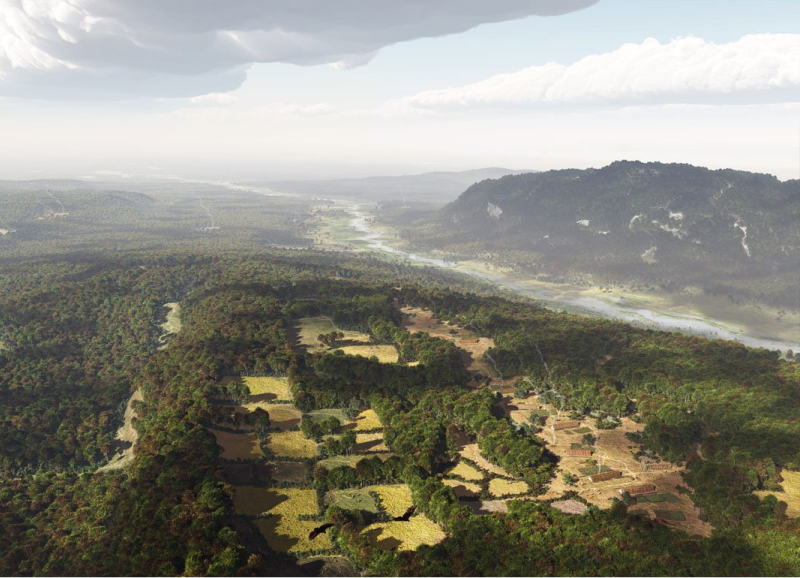 Impression of a LBK hamlet at Caberg a neighbourhood on the edge of the plateau
west of Maastricht, the Netherlands. (7)
*
Y-DNA Haplogroup HIJK-F929, from this the haplogroups H-M69, IJ-FGC1665 and K-M9.
*
Y-DNA Haplogroup H-M69 arose out HIJK - F929/M578, most probably in India, 30.000 to 40.000 years ago. Today almost all carriers live in India. The European gypsies, called also the Roma or Sinti people, have this haplogroup ‑ they originally came from India.
H-M69, Saudi Arabia, Pakistan, India and Knia (From India?).
H1-M52, Kerala, India
H1a-M82, Romani, Sinti in Europe from India.
H1a1-M197 Iraq.
H1a1a2-L683, Kashmir
H2-P96 Afghanistan, (till now) all have DYS393=14.
A number of eight archaeological finds, dated about 5200 BCE found in Stuttgart-Mühlhausen, Baden-Württemberg, Germany. (7a)
*
Y-DNA Haplogroup IJK-L15 arose out HIJK - F929/M578, from this the haplogroups IJ-FGC1665 and K-M9.
*
Y-DNA Haplogroup IJ-FGC1665, derived populations account for a significant proportion of the pre-modern populations of Europe (especially Scandinavia and the Balkans), Anatolia, the Middle East (especially Arabia, The Caucasus, Levant and Mesopotamia) and coastal North Africa. As a result of mass migrations during the modern era, they are now also significant in the Americas and Australasia.
*
Y-DNA Haplogroup I-M170 formed 43.000 ybp is an European group, I1* is found in archaeological European finds. I* has been found in ancient Gravettian culture samples from Krems-Wachberg Austria dated to 31,000 cal BP. In the site of Balma Guilanyà in the Pyrenees, dated around 13,100 ybp (± 330y), nowadays it is present in about a fifth of the population and barely outside Europe. This suggests an origine in Europe, before the last glacial maximum.
About 28.000 years ago it divided into two major subgroups I1 and I2:
I1-M253 has its highest rates in northwest Europe, Great Britain, Scandinavia and Iceland, and was presumably spread further by Vikings, Angles and Saxons.
I1a-DF29/S438.
I1a1-M227 is concentrated in Eastern Europe and the Balkans, and three to five thousand years old. It is also seen in Germany, the Czech Republic, Poland, Estonia, Ukraine, Switzerland, Slovenia, Bosnia, Macedonia, Croatia, and Lebanon
I2-M438 is found in Armenia, Georgia and Turkey.
I2a-L460 probably originated in southern Europe during the Ice Age.
I2a1-P37.2 is found in European hunter-gatherers and nowadays in the Balkans and Sardinia.
I2a1a-M26 is found on Sardinia.
I2a1b-L178/CYS176 is found in Mesolithic Sweden.
I2a2-M436 has its highest rates along the Northwest coast of Europe.
I2a2a-M223 is found in Great Britain and Northwest Europe.
I2a2a1-M284 is found exclusively in Great Britain, where it arose several thousand years ago.